CND Vinylux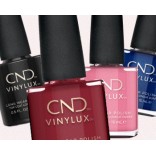 CND Vinylux - long wear polish

CND Vinylux is a 100% scratch-resistant nail polish that lasts for 7 days! Neither a base coat nor a UV lamp are necessary:

The CND Vinylux nail polish is the first nail polish in the world that dries in normal daylight (without a UV lamp), becomes harder and more stable (without a base coat). Guaranteed scratchproof for 7 days. Care complex with strengthening keratin, vitamin E and jojoba oil for healthy and stronger natural nails.

The CND Vinylux colors correspond to the popular CND Shellac colors.
CND Vinylux
To remove Shellac, Vinylux and Creative Play
100% scratch resistant nail polish